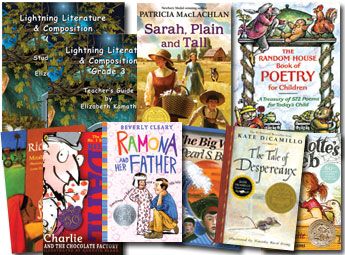 Issac and I have enjoyed working in the

Grade 3 Lightning Lit Set

by

Hewitt Homeschooling

. When I saw this item up for review I was excited to see what they offered because I hadn't heard of Hewitt Homeschooling before now. I was pleased to read that they are a non-profit foundation that develops curriculum at reasonable prices. They also have over 100 items designed with the homeschool parent in mind! They design with the mindset of parents having clear objectives and lesson plans while having fun lessons for the student. When our books arrived and I started flipping through the student workbook I was pleased at how colorful it was. All three of our children have always seemed to gravitate more towards workbooks that are colorful rather just black and white. It was nice to see all the wonderful books we were going to be able to read and study while using this program. The following books are needed to complete this program:
Sarah, Plain and Tall by Patricia MacLachlan-Weeks 1-2
Rickshaw Girl by Mitali Perkins-Weeks 3-4
Charlie and the Chocolate Factory by Roald Dahl-Weeks 5-9
The Random House Book of Poetry for Children by Jack Prelutsky & Arnold Lobel-Weeks 10, 15, 22&30
Ramona and Her Father by Beverly Cleary
The Big Wave by Pearl S. Buck-Week 16
Charlotte's Web by E.B. White-Weeks 17-21
The Wheel on the School by Meindert DeJong-Weeks 23-29
The Tale of Despereaux by Kate DiCamillo-Weeks 31-36
We received the student workbook and teacher's guide. We already owned a few of the books, but most of these are easily found at your local library. Issac enjoys when I read aloud to him, so having these wonderful books as part of the program made both of us very happy. We had previously read Sarah, Plain and Tall, but we read it again because I knew it would benefit him while working through the lessons. I know lots of moms prefer to have no schedule or to make their own, but I always LOVE when a schedule is included. I like seeing how the author really wants us to use the program and then I feel I can easily make changes or tweak it if I want or need too. The program is really set up to be used four days a week with the fifth day as a free day or catch up if you have had a busy week. Following this schedule it would take 36 weeks to complete this set. Each day is basically set up to read your work of fiction, answer comprehension questions, work on grammar & mechanics as well as composition. There is also a week at a glance that lets you know what you might need for the week. All the sections are fairly quick to do, but are packed full of great information. I thought the comprehension questions really helped Issac to think about what we had read.
In the teacher's manual there is space to write down your child's answers to the questions, but I didn't do that. I just read him the question, let him answer me and then we discussed. Issac just finished his fourth grade year, but we were reviewing the

Grade 3 Lightning Lit Set

because the fourth grade set is not due out until August. Issac has struggled with reading, comprehension and basically remembering things he's learned. I felt like the grade three set would still benefit him because there could easily be lots of information presented that he hasn't seen. The first week started out reviewing nouns and adjectives and I liked that because that is something Issac seems to forget. Constant review on parts of speech is something we've realized is necessary. So far we haven't used a program that showed how to diagram sentences, so that was new to Issac. It was presented in an easily understood way. I noticed even after reviewing nouns and adjectives when he had to chose the subject in the sentence he struggled to realize it was the noun. I think the wording confused him, but we continued to talk about what the subject of the sentence was and to move forward. Writing is introduced quite frequently in the student workbook, but it's presented in a fairly easy format. Issac struggled with the writing portion because he has fine motor issues. He can't really write sentences well and too much writing tires him out. I tend to do quite a bit of writing for him and did that with this program as well. One of my favorite books that we read was Rickshaw Girl. I hadn't run across that book before and it was a really wonderful story. Issac had a little bit of a hard time understanding why there was a constant discussion in the book about the woes of not having a son. That's not something we so much deal with in our country or in today's times. It made for great conversation though! I liked that the daily activities were similar, but yet there was a variety. There were some fill in the blank, crossword, matching, etc. Lots of the pictures were things Issac knew, so he felt he could relate to the activity pages. I think Issac enjoyed knowing the short workbook page that needed to be done daily, but yet there were opportunities for us to discuss out loud as well. I know my child needs quite a bit of review and this program was very helpful in that department. It didn't move on too quickly to new information which helped Issac to not be so frustrated.
If you'd like additional information on

Hewitt Homeschooling

check out their social media sites: Facebook,

Twitter

,

Pinterest

and Google+. The crew reviewed quite a few different sets this time such as:
Grade 1 Lightning Lit Set
Grade 2 Lightning Lit Set
Grade 3 Lightning Lit Set
My First Report
Gr 7 Lightning Lit Set
Gr 8 Lightning Lit Set
American Early-Mid 19th Century
American Mid-Late 19th Century
Speech
British Early-Mid 19th Century
British Mid-Late 19th Century
British Medieval
Shakespeare Comedies
Shakespeare Tragedies
British Christian
American Christian
World Lit 1
World Lit 2
Click the link below to read all the reviews for these great products!