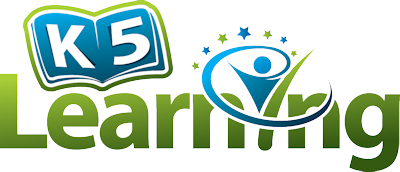 Issac loves board games and of course video games. I try to use lots of games to help whatever we are learning. We recently have been using the
online program
from
K5 Learning
. One of the things that attracted me to this program was the assessment process. Your child does an assessment for reading and math before they do anything else. They base the assessment on your child's age and grade and then make assignments based on how they did on the assessment. Basically whatever area your child is struggling in they'll start them at that level. If your child is doing well in an area they'll start them at that section and move forward. I really found the assessment interesting because of what it showed me were my son's strengths and weakness's. My son has struggled with reading for several years and I found it helpful what this assessment showed me! Here is a part of his math and reading assessment to show you what they are testing.
You also get to see progress reports on what sections your child has been working on and how well they are doing. At the end of each section there is a light where your child can click go or stop. I have been telling my son he has to go through the light three times each for math and reading. Each section is not a lesson. It can vary on how many stoplights they have to go through to actually complete a lesson. That is a little frustrating for me because I feel almost like I don't know where he is in the lesson. I wish there were an easier way to see how many segments there were to a lesson, but it's a little complicated. If I knew there were 5 parts to a lesson I might have him go ahead and do all 5 that day if he was up to it. A few times it felt like we were doing the exactly section, but if you don't pass it then they'll have it come around again for you to practice more. They want to make sure that the child truly understands what they are learning before they move them on to the next section. I really like this aspect because I don't want my son moving on just because he did the section. I prefer that he understands it and would rather go back and redo missed problem or the entire section rather than just move on. This is a supplemental program, so you aren't replacing what you are already using, but just adding this to your current programs. Spelling is also included in the program. We tried it out, but it seemed a bit of a struggle for my son, so I felt we would just focus on the reading and math. Spelling is a struggle for him and we have to work hard for him to learn his words. I think the spelling would have been great for our middle child, but it just didn't click with the youngest. Another great thing about this program is that there is a 14 Day trial for you to have your child do the assessment and some lessons. That's helps to make sure that it works for you and your child. There are also
sample lessons
to give you a good idea of what types of things your child will be working through. You can also check out the
intro video
to help you understand how the program works. This is a great program for summers or after school help. It works well with special needs students as well as those that are gifted. Children kindergarten through fifth are the target audience. If your child has a struggle or even an interest in a certain section worksheets are provided as well to further their learning. Each day there are certain worksheets offered in the student account and they are usually on what was learned/reviewed the day before.
My son complained a bit on the Geometry portions that he was working on. He said that he already knew how to do the problems and didn't need to do them. I explained to him that if he didn't answer them correctly on the assessment then it would assign him those problems to work through. I also explained to him that if he didn't put his full effort into the assessment and got some wrong that he was still going to have to work through the lessons because he should have worked harder in the assessment :) I figured he may have not tried 100%, but mostly he just didn't like those geometry lessons (LOL) Several times I've sat with him and he seemed to not complain those days :) Overall we have greatly enjoyed this program. I think when a program does an assessment and then lessons are assigned based on what they need to focus on it's always great for the child. There were a few holes in my son's learning and I really feel we are addressing them with
K5 Learning
and their
online program

.
Check out what my fellow crew members thought as well as K5's social media sites:
Facebook
Twitter
Pinterest
Google+