One of Issac's favorite sayings is now rush, rush, rush to history! He's learned this catchy phrase while we've been reviewing

Adventures of Rush Revere #1 New York Times Bestselling Book Series by Rush and Kathryn Adams Limbaugh

. Rush Revere has been on the radio for years letting America know his political thoughts. He's decided to branch out in a new direction and teach history to our children is a fun and memorable way. He and his wife have teamed together to bring us five fantastic books, the

Adventures of Rush Revere Book Series

, to teach our kids the story of America. These books are beautiful to look at. They are hardback with beautifully illustrated covers. The pages in the books also have an aged look about them as well as some fantastic pictures throughout the stories. We received ours beautifully wrapped in a blue ribbon!
I think the pictures helped Issac get engaged because he wasn't just sitting there listening to a bunch of words. There were visuals for him to look at and help his understanding. Also learning about history from a horse that jumps back in time gave learning a new twist.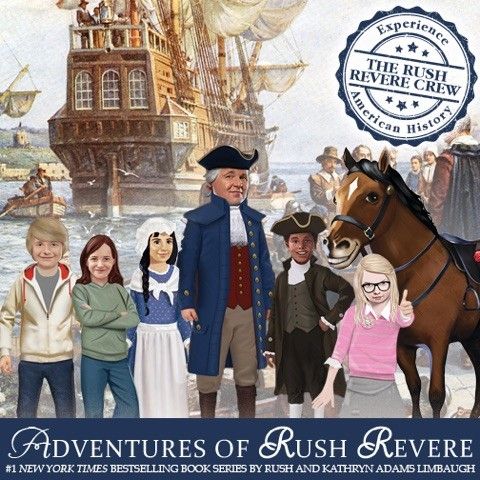 We decided we'd read the books in order just to help Issac keep track on events, dates, etc. We read every night before bed, so that's where we started our adventure. The more we got into the books and the more engaged we got we expanded to reading during the day as well! We started out with

Book 1 in the Adventure Series: Brave Pilgrims

. I'm really glad we started out with this one because it gave Issac a good understanding of why America was founded. We read about how the pilgrims left England because they wanted a fresh start and not to be persecuted for their religious beliefs. As the book starts we meet Rush Revere, a history teacher that loves to dress in colonial clothing. His sidekick, Liberty, is a talking horse who also can disappear at will! Rush Revere is substitute teaching at Manchester Middle School in the honors history class. He's got a fun take on how to teach history to his students. During this book Rush Revere, Liberty and two students from the class, Tommy & Freedom, time jump back to the Mayflower. They meet William Bradford & Myles Standish as well as many of the other people moving to America. They may be jumping back into time, but they are still using Rush Revere's cell phone to take pictures :) Throughout this book they jump to several different times to see how the pilgrims are adjusting. Freedom learns how to plant from Squanto and they get to help celebrate the first Thanksgiving as well.
We then moved on to the second book in the series,

Book 2 in the Adventure Series-First Patriots

. The story continues as England is trying to hold on to the pilgrims and not let them be free. I think this was one of Issac's favorites because of the Boston Tea Party. I honestly don't know if Issac's ever heard of the Boston Tea Party, but the way it was portrayed in this book, I don't think he'll forget it! In this book we add two new students, Cam and Elizabeth. Cam loves history and is very excited to join the group whereas Elizabeth is the principal's daughter and she just wants to cause trouble for everyone! Rush and his kids jump back into time and meet some of the wonderful people from our history such as Benjamin Franklin, Patrick Henry, King George III, Samuel Adams, George Washington and John Adams.
Moving on to the third book,

Book 3 in the Adventure Series-The American Revolution

. In this book we meet Dr. Warren who is a local doctor, but working behind the scenes for the patriots. This story taught us more about Paul Revere and his part in history. We learned what one if by land, two if by sea meant. Lanterns were put in the window of the Old North Church. This was a warning system to all that were involved in helping Paul Revere make his ride a success.
The fourth book,

Book 4 in the Adventure Series-Star-Spangled Banner

, truly helps us all to understand what it means to be patriotic. In this book we learn that Tommy's grandfather isn't doing well. Rush Revere decides to take the kids to Washington, D.C. to cheer everyone up. He even includes Tommy's grandfather! Here they take on a top secret mission to learn all about Washington, D.C. that they can. They meet James Madison and even share dinner with him. They head to the Constitutional Convention, the capitol and many other important places from history.
In the final book,

Book 5 in the Adventure Series-Presidency

, we learn about what it means to be president and how the process works. Without some of our founding fathers I'm not sure where the county would be today. They gave our country a stable base from which to build further on. The crew got to experience George Washington taking his presidential vows as well as his farewell address.
One thing that we really enjoyed about these books is the way the material is presented. Kids are the main characters and I think that always helps children relate better to the material being presented. Issac picked up on the historical figures and information because it was presented in such a fun way. We all know that a horse can't travel back in time, but it's a fun vehicle to move around in the world of history. I think these books would be wonderful for middle school age children to read alone and help them build their interest in learning history. Some older elementary students would probably be able to read this alone as well, but for my son he would have lost the context of what he was reading. The chapters are a little too long for his comfort, but he really enjoyed us reading them aloud.
Here's a picture of Issac after we finished the first three books in the series.
Another wonderful thing about the

Adventures of Rush Revere Book Series

is all the extra stuff that they've come up with to go along with the books. You can read the books alone or you can use their f

un activities

that they've come up with to expand your learning on American History. They have

study guides

,

activities

,

games

and even

scholarship opportunities

You can also follow their social media:

Facebook

,

Twitter

and

YouTube

as well as read what my fellow crew members thought.