Several years ago a good friend gave me some homeschooling materials that she didn't need anymore. She thought that since I had three children the items she gave me might work for one of them (LOL) One of the items included was from

Memoria Press

. It was a beginning book for Latin and I knew my oldest son wouldn't have any interest in it. I left it sitting on the shelf for a bit and our daughter picked it up one day and started looking through the book. She became so interested that I ordered the dvd set that went along with it and that started out journey through Latin! She developed such a love of Latin through the Memoria Press products that she would make pages of notes and hang them on her wall. She would review her words daily and use them in conversation when she could. We were recently given the chance to review from Memoria Press. I knew that we had to request the

Second Form Latin Complete Set

, so that she could continue studying her Latin :) We were both so excited when the box arrived and we saw all the goodies that came. I think if my daughter had to chose only one item to use from the set it would be the dvd set. Thankfully she doesn't have to and she has the complete set :)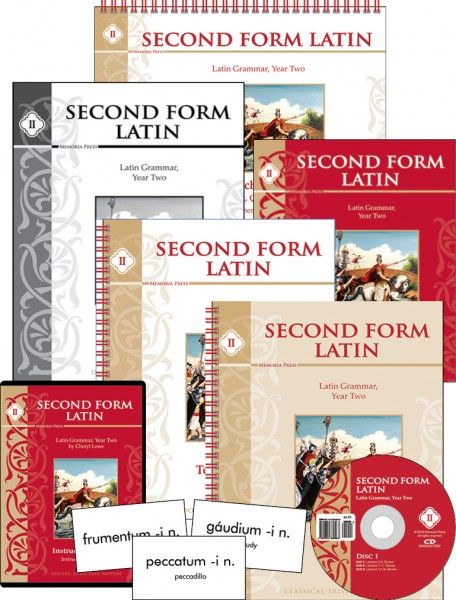 I really like the way the program is set up. The dvd collection is wonderful and I think it truly helps the student understand how to pronounce the words. That's always been my daughter's favorite part and I don't think she'd like the program as much without them. The student book is very short and to the point. There's not lots of reading that makes the student feel frustrated. It teaches the lesson and moves on to the practice pages. I like that there are 4 practice pages for each lessons. It gives the student a chance to practice the same information for almost a week before moving to the next lesson. The cd's that come with the set are also helpful in helping the student learn the pronunciations. The instructor says the word in Latin, English and then Latin again. He expects the students to repeat after him. I like that he says the Latin and English words together to help the student get it straight in their mind. He reviews words that are needed from previous lessons and I always find that helpful. Another positive aspect about the cd's is that you can pop them in while driving around and everyone can work on the pronunciations. I know for several of my kids hearing what they are learning out loud makes a huge difference in their learning. Over the years we've had many learning cd's that we played in the car on the way to appointments and doing general errands. It's amazing what they pick up by just listening. For me the hardest part of learning another language is pronouncing the words correctly. I think having either the cd or the dvd set truly helps the student to better understand what they are doing and how to pronounce the words.
When I sit down and work with my daughter on the student booklet or try to help her she always gets a laugh from the way I butcher the words (LOL) A few of them that she has used quite a bit around the house I can remember, but others I just can't. There is a consistent theme to this program, so that there aren't really any surprises. The student can easily watch the dvd lesson and then work in the student book independently. So many extras have been added to the basic program that it really helps the student succeed. The flashcards are fantastic for reviewing. There is also the quiz and test booklet to help know how well your child is doing. This program is a wonderful classical christian homeschool curriculum. I know that if we weren't homeschooling my daughter probably wouldn't have developed her love of Latin. I'm thankful for the time she has spent with the

Second Form Latin Complete Set

. I know that learning what these Latin words mean can and will greatly help her in the future. So many words we run into in our daily studies can be figured out with knowing these Latin words. Many times in her science the last few years she's been able to tell me what words meant that I didn't know. I know the more times she spends in this program the more it will benefit her.
I'm so thankful for the classical christian education that

Memoria Press

can provide for our children. Their programs are challenging and I am thankful that my daughter can be challenged in her studies. They have multiple Latin programs that range from elementary through highschool. If you are interested in your child learning Latin check out the programs they have available:
Prima Latina

Grades 1-4
Latina Christiana Complete Set Grades 3-6
First Form Latin Complete Set Grades 4-9
Second Form Latin Complete Set Grades 5-10
Third Form Latin Complete Set

Grades 6-11
Fourth Form Latin Complete Set
They also have some wonderful science programs:
Nature's Beautiful Order Grades 6-9
The Book of Trees

Grades 6-8
Memoria Press has so many wonderful programs that I can't list them all :) Check out their social media sites:

Facebook

,

Twitter

,

Pinterest

,

Instagram

,

Google+

,

YouTube

&

LinkedIn

. Also read what my fellow crew members thought.