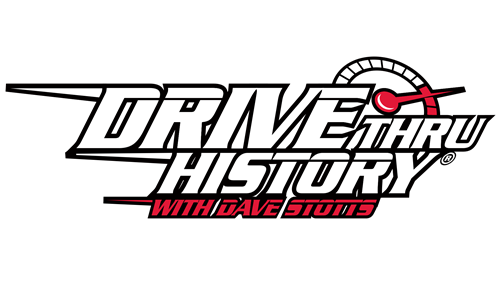 We have had so much fun watching

Drive Thru History® – "The Gospels"

recently. I have heard wonderful things over the years about

Drive Thru History®

, but I have to admit this was our first experience with it. Just opening the package got me excited because the quality of the items was so wonderful. There's always something special about a quality item! The case that holds the cd's was nice and sturdy and the pages of the study guide were thick beautiful pages. There are 3 dvd's that include 18-30 minute videos. A study guide is included and it has wonderful pictures and very thought provoking questions. The study guide has a summary of the episode as well as the discussion questions. The study guide alone is wonderful because of the information and pictures. It's like a beautiful picture book!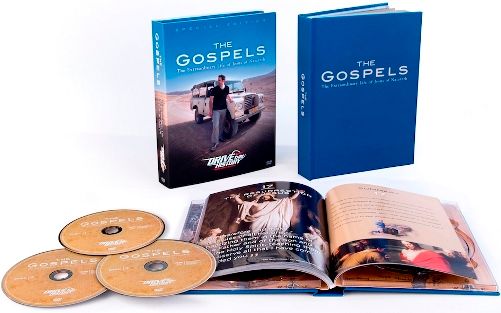 The very first video had me hooked! The quality of the pictures on the dvd's was just amazing. Not many of us can travel all over the world, but through these videos we can almost experience what it's really like to be there. We were able to "travel" to over 50 ancient cities in Israel to learn about the life and times of Jesus. This series tells the story of Jesus from the locations in the the Gospels-Matthew, Mark, Luke & John. Those that have read about the life of Jesus are already touched by what he's done for us. Watching these dvd's brings it all to life and really made me so much more appreciative for what Christ has done for us. There's so much to learn about the time of Jesus. We were able to visit the Church of the Nativity as well as learn more about Herod and his Herodium. We saw some amazingly beautiful flooring that were discovered as well as been able to learn more about the first miracle that was performed. I've always had pictures in my mind of certain events and this helped me realize how I was wrong about some of them :) I've always thought of Jesus in a wooden manger, but I learned that it was probably more like stone. There is SO MUCH covered in these 3 dvd's that it's hard to put it into words. Dave Stotts is so engaging and is really a perfect fit for these dvd's. He has amazing knowledge as well as a bit of a comedic aspect about him. The episodes break down as the following:
Episode 1: The Historical Landscape
Episode 2: The Announcements
Episode 3: Jesus is Born
Episode 4: Jesus Grows Up
Episode 5: Jesus Starts His Ministry
Episode 6: Jesus Returns to Galilee
Episode 7: Jesus Begins His Miracles
Episode 8: Jesus Teaches with Authority
Episode 9: The Sermon on the Mount
Episode 10: Jesus Travels the Sea of Galilee
Episode 11: Jesus Travels North
Episode 12: A Final Trip to Jerusalem
Episode 13: Jesus Arrives in Jerusalem
Episode 14: The Last Supper
Episode 15: The Trial of Jesus
Episode 16: The Crucifixion of Jesus
Episode 17: The Resurrection of Jesus
Episode 18: Who is Jesus?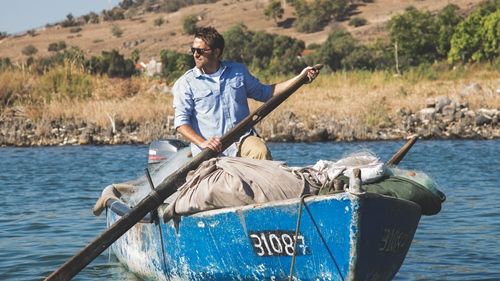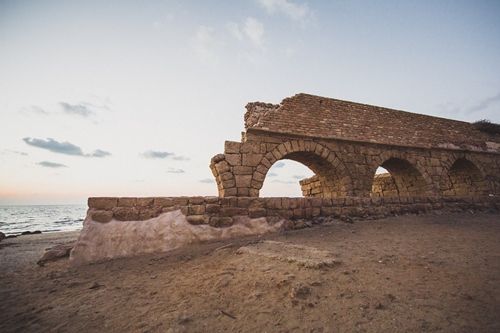 I think one of the reasons I haven't checked into

Drive Thru History®

is because of the price. The price of $89.95 might seem pretty high if you are on one income like we are. That said, this is one of those items that until you can experience it yourself you don't realize the value of it. Previously in my mind not much could be worth that price. After watching these dvd's I've realized they are worth it. The stories are AMAZING and the quality is fantastic. This is an item that you want to have in your home and would be well worth saving for or asking for a gift. The recommended age is fifth grade and up. Our youngest is in fourth and he was totally enthralled with the videos and would binge watch them. I think they are an all around quality item that everyone in the family will enjoy. There is a quote on the back of the box that I think sums up the videos as well as really makes you stop and think. "Who would you say is the most significant person who has ever lived....? That type of question that makes you stop and think is the way this entire series was for me.