I hate to admit that I hadn't heard of
Readers in Residence Volume 1 (Sleuth)
before this was listed as a review item. I have, however, heard of
Apologia Educational Ministries
. We have used many things over the years from Apologia and their curriculum is known as top notch. I'm not sure how I missed out on this homeschool reading curriculum from Apologia, but I'm excited that I know about it now! My oldest never enjoyed reading and it was something that he and I struggled with every school year. My youngest has had lots of difficulty with reading, but has finally made great strides. I've always felt that there was more I could have done to help my oldest. When I checked out RIR it looked like a great program to try with Issac. We haven't really done too much with the elements of literature, so I knew that he would learn those with this program. We were able to work on vocabulary as well as being able to think critically about what we were reading. Comprehension is something that Issac has worked hard on during his therapy over the last few years. I felt this program would be a good fit for where is he.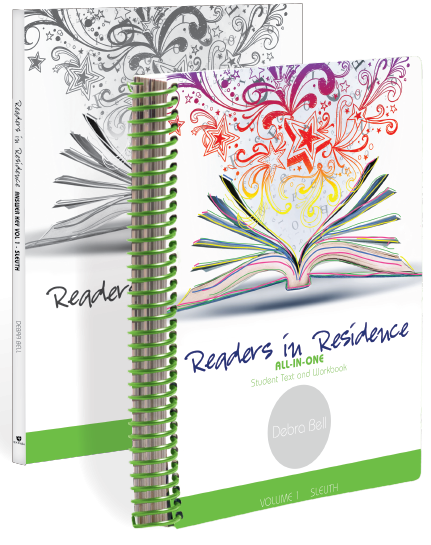 I knew when I first sat down and looked at the book that Issac wouldn't be able to read everything himself. He's in fourth grade, but probably more like third grade or late second in language arts. RIR is geared towards 4th-6th grades, but I felt we could make it work for us. I figured we'd pick and chose what he read and what I read. Even though his reading is going well he can still get frustrated or even just tire easily. I was super excited that we were starting off reading
Sarah, Plain and Tall
. I don't ever remember reading this book and these are the type of books I still enjoy reading as an adult. Issac read the first chapter and then we started on the assignment. Depending on the day he would read the chapter and I would read what we needed to do or vice versa. Issac was very anxious to get the book started, but there were a few things that we needed to do to get started. I really like that there is a plan because I always like having a preset plan. If I need to make adjustments I can, but I personally like an idea of what we are going to do. There was a suggestion about doing a book club, but that wasn't something I thought would be workable for us right now. We were able to go over the grading, talk about what it means to actively read, talk about the clues on the book cover as well as different genres. After we had spent time going through all of these it was time to start! One thing that I enjoyed was the activities. They ranged from making book covers, doing a comic strip and character maps. I felt like all the different lessons were great and helped Issac in a different way. I personally enjoyed the ruminate section because then I could tell what he was really understanding. Debra Bell has developed
Readers in Residence Volume 1 (Sleuth)
to complete your current language arts program. RIR includes vocabulary, reading comprehension as well as literature. Here are some examples of what we did:
If you aren't familiar with this program check them out on social media!
I'm very thankful that we were able to spend the last few weeks working on
Readers in Residence Volume 1 (Sleuth)
I feel like Issac has started learning some new tools for his toolbox in reading and we've enjoyed a great story as well.