My husband isn't involved in our schooling as much as I'd like. He's always been wonderful with the children reading the Bible to them and teaching them God's word. We recently got to try
Manhood Journey Father's Starter Kit
by
Manhood Journey & City on a Hill Studio
. We figured this would give my husband and our youngest son a little more quality time together. We received our kit in the mail and this is what was included: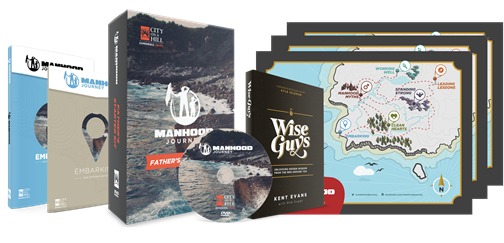 We received the group discussion guide, the 1 on 1 guide, the dvd of the introductory videos for ALL six modules and 10 map brochures. We also received a free copy of Wise Guys: Unlocking Hidden Wisdom from the Men Around You by Kent Evans. Our youngest, he's 9, is always talking about he's a "men" and when he's older. This seemed like a great place to jump into his Manhood Journey! My husband checked out the Wise Guys book and we both looked at the discussion guides. We also watched the dvd of the introductions to all the modules. We thought we had an idea of our plan, so we jumped in! We received the Embarking guide which is the first in the series. After you've completed Embarking you can chose whatever order you'd like to proceed. There are also guides for Clean Hearts, Working Well, Standing Strong, Manhood Myths and Leading Lessons. These are wonderful guides for our young men to work through on their journey. The first thing the guide tells is how to use it. There are suggestions of things to do, scriptures to read as well as the basic "lesson" to learn. Everyone learns different and we took this as in you make this journey how it works for you. Week 1 is Preparing For The Journey-The Big Rocks. Issac learned about The Five "Big Rocks" which are TRUSTS God, KNOWS his Word, PRAYS fervently, BUILDS relationship and SERVES others. We took a different approach and put our "rocks" on the wall by our door. This way he will see them every time he exits the door and they will become deeply ingrained in his heart and mind. We also started his Manhood Journey Notebook. Here are a few pictures of what he put in his notebook over the weeks.
In the EMBARKING guide the six lessons they worked through were PREPARING FOR THE JOURNEY, SETTING OUT ON THE JOURNEY, RELYING ON THE COMPASS, SEEKING GUIDANCE ALONG THE WAY, ENCOUNTERING OTHERS ALONG THE JOURNEY AND WE HAVE EMBARKED. Each week has specific sections that continue throughout the book. They are Building Our Relationship, Knowing God's Word, Serving Others and Talking with God. I feel that Issac really was learning and growing in these last few months. This is a great Father Son Bible Study. That said, I do feel that he would have learned more being in a Small Group Study. It was great for him and dad to work on this alone, but I think he would have learned additional things in hearing what others had to say. I think it's great that the group guide as well as the 1 on 1 guide are included in the set. I'm glad to have the group guide because there might come a time in the future when my husband could do this in a group setting. If you are interested in more information on the
Manhood Journey Father's Starter Kit
please check them out on social media:
Manhood Journey
Facebook:
https://www.facebook.com/manhoodjourney
Twitter:
https://twitter.com/manhoodjourney
@manhoodjourney
City on a Hill
Facebook:
https://www.facebook.com/FollowCityOnAHill
Twitter:
https://twitter.com/COAHStudio



Also, check out what my fellow crew members thought.