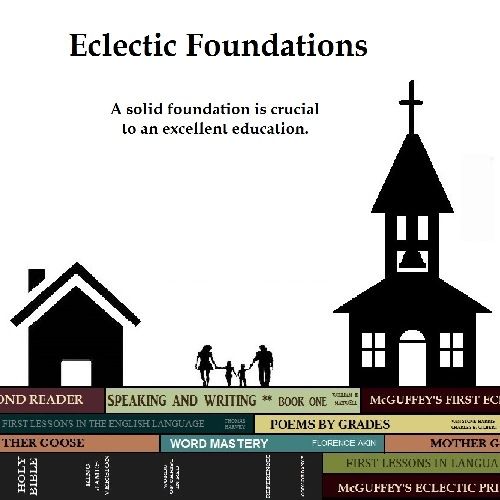 I have taught three children to read over the years. Two of them, my boys, have struggled and my daughter seemed to take off from day one! When the younger son started to struggle with reading I instantly worried because I saw how much the older son had struggled. I felt like if I found the "perfect" program, did just the right thing, etc., that he wouldn't struggle as much as his brother did. The youngest also had some special needs of his own, so that was thrown into the mix. We've done several different programs, threw in lots of review and games and even had help from our speech therapist. Finally in the summer before fourth grade it seemed like it was clicking. I'm always on the lookout still for anything that I think will work well with this child. When I was given the chance to review one of the
Eclectic Foundations
language arts curriculum. I thought it would be a great fit for my fourth grader. I looked at Level B and C trying to figure out which would be the best fit. Since he seemed to really just be doing great the last 6 months or so I was worried that maybe he wasn't totally ready for the Level C. I felt that even if Level B seemed easy as first it would help build up the confidence that he's been working on increasing. I chose
Eclectic Foundations Language Arts Level B
for several reasons.
Level B was suggested for a child that has difficulty with reading comprehension.
Level B was suggested if their grammar wasn't that great. They really start building the grammar foundation and in Level C the child is expected to know much more. We have worked on grammar since first grade, but that is something we constantly have to review.
Level B also starts the child working on cursive and again that is something we haven't mastered.
The last thing that caught my eye is starting the child writing. My son's writing is very limited due to the previous reading ability as well as fine motor issues. Overall most sections that are worked on in Eclectic Foundations were sending me in the direction of Eclectic Foundations Language Arts Level B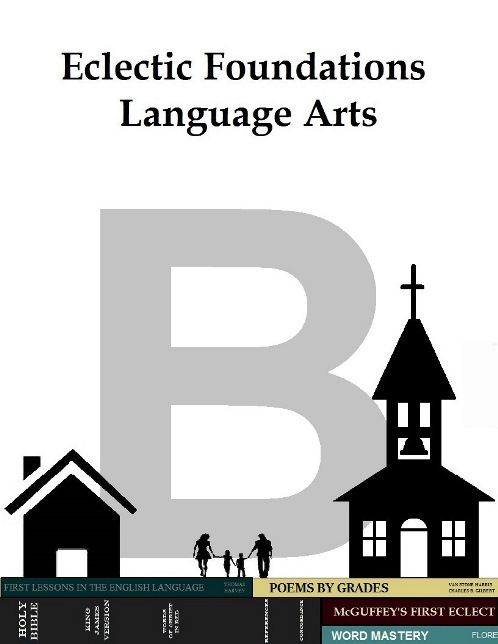 When the package arrived I was really excited to sit down and go through it all. Getting new curriculum in the mail for me is like a gift at my birthday or Christmas! :) I was really anxious to get in and look because I really like programs that use a multisensory approach. Included was the following:
Eclectic Foundations Language Arts-Student Workbook
Eclectic Foundations Language Arts-Teacher's Guide
Phonics Practice Sheets
Word Cards
McGuffey's First Eclectic Reader (This was provided for us while doing this review. This item is a free PDF file that can be downloaded from the website. Check it out! McGuffey Reader I really loved having the reader in our hands verses on the computer. You can check out the "physical" book Here
The first day or two we started out great. My son doesn't enjoy coloring, but he was coloring his word cards with no issues. He was breezing right through the reader and I started to worry that maybe we should have gone with
Eclectic Foundations Language Arts Level C
. We continued on and then the issues started :( My son didn't want to color anymore. Depending on the day he could have two cards to color or he could have eight. Not coloring them really wasn't an option because that was the visual to help remember if they were a noun, verb, adjective, etc. I started coloring them for him on days when there were quite a bit. He also started to have issues with the reader. He didn't care for the markings on the words that helped sound them out. Those markings totally threw him. He also didn't care for the fact that the page was mostly gray. Those two things were a big negative for him. He didn't have any trouble with actually reading, but those two issues were distractions for him. I did notice he didn't seem to enjoy the poetry part of the lesson at all. I'm not sure if it's because he didn't like it that it didn't seem to click for him. He could answer about half the questions and sometimes he just didn't understand what they were talking about in the poem. We continued on doing our lessons. Some weeks we did three lessons a week and some we were able to do four. I really like that any answers needed by the parent on right on the same page as the lesson. There is NO need to flip to the back. I really like that! My son told me just on Friday that he's starting to like this language arts curriculum better than he did a week or two prior. It just goes to show that sometimes it just a bit for things to click.