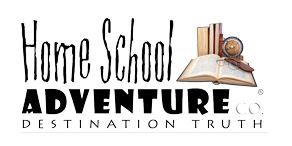 I'll have to be honest that I've heard of
Home School Adventure Co.
before, but really didn't have any idea about their materials. I recently had the opportunity to review
Creative Freewriting Adventure
that also includes
Creative Freewriting Adventure Coloring Book Edition
. I was pretty excited to check this program out. Over the years creative writing has been one of the things we've seemed to have dropped the ball on teaching :( My middle child has a flair for the arts and I thought this program would be right up her ally. She's got a very vivid imagination. She's great with creative writing because of all the ideas she has, but sometimes needs help bringing it all together. She's my only girl as well as the only child that has ever enjoyed coloring, so I chose the coloring book edition.
This was a downloaded item and right away you get the gist of the program. The table of contents lets you know what you are going to be learning and writing about! There are 10 exercises that when complete your student will have one large assignment.
Each exercise has the same basic setup. There is 1-2 pages to setup each exercise. They give what I call the history. This information helps setup in the students mind what is going on. Then they give the assignment, for example in this exercise it was to imagine yourself in the scene and tell what happened. The student is setup for success because of all the clues and suggestions that are given for the writing. Here's an example of one of the exercises:
Here is what my daughter wrote as well as her coloring page for this exercise:
I was overall happy with this item. It took my daughter a few lessons to really get into it and use the helpful suggestions in her writing. She really LOVED that she was only suppose to write for fifteen minutes! She colored about 75% of the coloring pages and I was totally ok with that. I think coloring can be very calming and relaxing. She just didn't need to do that part every day. We used this item 2-3 times a week. Most weeks it was three times, but one week was super busy :) The item is $21.95 for the digital coloring set. You can also order the set without the coloring pages. That item is $18.95 for the digital version or $21.95 for the print version. I would buy other writing programs from
Home School Adventure Co.
because I think this was a quality item, easy to use and not a bad price! They have many other items, so check them out at any of the following social media sights.
Facebook:
https://www.facebook.com/HomeSchoolAdventureCo
Pinterest:
http://pinterest.com/homeschooladven/
Google+:
https://plus.google.com/b/115241518288669984312/+Homeschooladventure
YouTube:
https://www.youtube.com/user/HomeSchoolAdventure