I tend to stick to romance novels and my daughter likes science fiction type books.

Bessie's Pillo
w
is one of those books that sounded good, but when I started to read I struggled a bit. I think honestly my mind was on other things and not the book at hand. A few days later I grabbed the book and started reading again. Wow, was I blown away!!
Strong Learning, Inc.
has given us an AMAZING book. This is one that I will not forget and I will read again over the years. I do enjoy reading historical fiction books, but they really need to allow me to feel like I'm right there with the characters. Linda Bress Silbert has done just that with her family story. It was her grandmother, Boshka Markma aka Bessie, that this wonderful story is written about. Boshka Markman, aka Bessie, is one of those women that has dealt with adversity in her life and risen above it! She was sent from the only home she'd ever known, Lithuania, in 1906. Imagine being 18 and leaving your entire family to go to a new country. Imagine having to do that because you are Jewish and it's no longer very safe for you. What would you do and how would you handle it? I'm not sure I would have handled it as well as Bessie did. She was suppose to live with her sister, but that didn't work out for her. She moved on to a friend's house and that was more comfortable for her. She took a job that really wasn't the best job for her, but it gave her life experiences that we see her falling back on later in the book.
What I like best in a book like this is to be able to feel like I'm right there in that time period. How would I have felt if my family put me on a ship bound for America? What if I didn't like where I was to stay? Couldn't find a job? Missed my family? Those are all things that Bessie deals with and I love how we see her grow through dealing with these issues. So many people had to do what Bessie did, including some of her own family members. Imagine leaving your home and NEVER seeing your parents again! That is something that was fairly common many years ago, but today we couldn't imagine living a life like that. There were lots of people that left their homes and came to America for a better life. It's hard for us to even begin to imagine how many of these people lived during those times. Check out

Bessie's America

to get some great info that will help you relate. We really enjoyed reading about the ship and what type of food they would have eaten. We also really enjoyed the photographs of Bessie and her family. Check out Ellis Island to see if you can discover any of your family members.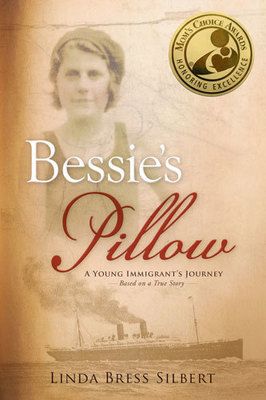 I feel like this book could easily be enjoyed anywhere from 5th grade and up. Depending on the type of reader the 5th grader is would be the determining factor. My son's attention wasn't kept in the same way that mine was :) I would have loved this type of book as a child. I think all ages can enjoy it. I truly think most adults would be the ones that enjoy it the most. For older readers it might bring back memories from their childhood and stories they heard. For those my age it really makes me realize how fortunate we are to be born in America. I'm not sure the younger readers will really grasp that concept. They may read it as more of a fictional story than a book written based on Bessie's life.
This book is available for just $15 through the site or just $3.99 for the Kindle version. For more information follow their social media sites:
Facebook:
https://www.facebook.com/BessiesPillow
Twitter:
https://twitter.com/BessiesPillow
@BessiesPillow
Also, check out what my fellow crew members thought of the book.