If I had to chose one thing to eat EVERY day it would probably be chocolate (LOL) Issac seems to have taken after me :) When he heard that he could chose

Heroes of History- Milton Hershey

for our recent review from

YWAM Publishing

it was his number one choice. I think we have all heard of Hershey chocolates and Hershey, PA, but I really had no idea of the background and how Milton Hershey got started. Just looking at the book and the title, More Than Chocolate, we got a sense right away that there was more to his life than we knew.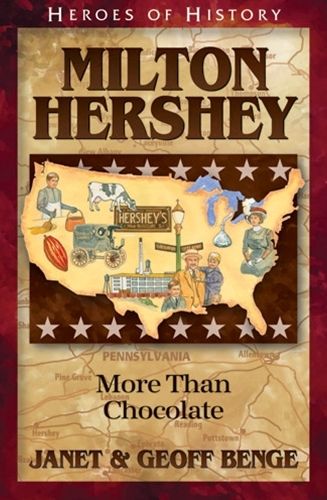 Heroes of History

currently has 28 books in their biography series:
They've also produced an amazing
Study Guide
that is available for download. It was packed full of suggestions to expand our studies on Milton Hershey. We decided to start a collage on things that were related to Milton Hershey. Of course the first thing that Issac thought we should put on there was a Hershey wrapper! That meant we had to go down to the gas station and purchase 2 candy bars. We had to purchase 2 because of course they were cheaper that way and it also meant an entire candy bar for each of us :) One of the things we learned was that when Milton Hershey started his bars they were 5 cents EACH. The book was full of factual information, but was given to us in an interesting way. Lots of time history can seem boring and just full of dates. We learned all about Mr. Hershey's failures as well as his success stories. He truly went through many trials and without the help of his family he might not had become the success he was. He truly wasn't willing to give up and that was very encouraging to read. When he encountered something that didn't seem to be working he kept making changes and trying until he found something that worked. We read that he originally started using Jersey cows, but later changed to Holstein because the product worked better in his chocolate.
We really enjoyed the discussion questions for each chapter. There were six questions for each chapter. The first was always the definition for a word that appeared in the chapter. These were nice because Issac didn't know what they all meant and we were able to approach him learning the word in two different ways. We would go back and read the sentence again that the word was in. The page number was given, so it was easy to find. After that we would look up the definition in the dictionary and review that. Usually questions 2-4 were ones that he could answer fairly easily. Questions 5 & 6 required more thought. They might be easier for an older child, but I was able to ask him questions to help him figure out the answers.
The quality of these books are wonderful. There are so many choices and they are really a great way to get your children interested in history if they might not be already. The study guide also helps you start all those rabbit trails that can lead to endless learning. We really enjoyed reading this book and Issac was easily able to sit through a chapter at a time and be able to answer the questions. I'm going to be putting some of these in our schedule for next year!!