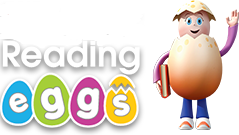 Issac has always loved

Reading Eggs

and recently we were given a free 6 month subscription. One of my favorite things about this program is that he's learning as well as having fun. When they complete lessons they earn golden eggs and they can use those to buy things at the mall. They can buy things for their house, their avatar, their pets and trading cards.
One of Issac's favorite things to do is to make a story. They walk you step by step through making a story and then you can submit it and print it for yourself as well.
Reading Eggs
has something for almost all children up through elementary school. Reading eggs Junior is for ages 2-4. Reading Eggs is for ages 3-7 as well as Reading Eggspress that is for ages 7-13. There is also Mathseeds that is for ages 3-9. This program works so successfully because it focuses on key concepts: phonics & phonemic awareness, comprehension, sight words, vocabulary and reading for meaning. The ages are guidelines and I've found it's best to follow the assessment and where it says your child should start. The student starts the assessment and continues until he or she misses three problems and that is what lesson they'll start. Even if you have a child that is older than 4, but struggles with their letters they'll greatly benefit from Reading eggs Junior. My son is 10 and is still working in Reading Eggs. He's struggled with reading over the years, but I have really seen some great improvements as he's worked through Reading Eggs. His understanding of syllables as well as his comprehension has improved greatly. The lessons are in a game format, so even though the student is learning they are doing it in a fun way. We also did a few lessons in Reading Eggspress to try and feel out that part of the program too. He enjoys the stories as well as likes the fact that the program will read to him. It helps him to follow along as the program reads. His comprehension is much higher when he follows along. He loves the math that is offered in Mathseeds, but he has worked himself out of that program. There are so many things available to do with this program and so many wonderful books in the library section that the students can read. Some of the key features in the Reading Eggs program are the lessons, storylands, spelling, the story factory and my program. The parents are always able to check and see what lessons their child has completed. In Reading Eggspress there are the lessons, the stadium, english skills and the library. The lessons are also broken down into different activities, so the student doesn't feel they are doing the same activity over and over again.
There are also
sample lessons
that you can take a look at to see how the program progresses. Reading Eggs is offering a
Free 4 Week Trial
for you to check the program out for yourself. This offer expires November 20, 2017, so check it out to see how much this program can help your child.
Reading Eggs
has also just introduced a new comprehensive program for homeschool children in grades K-2nd. Each guide provides 36 weeks of teaching for Language Arts, Math, Science and Social Studies. Here is a little sample of the lesson plans for second grade.
Depending on your homeschool style this could be a full curriculum for your K-2nd grade students. These lessons can be found under the bonus section from your main dashboard. There are also activity sheets available in the bonus section as well. There are lots of fun extra printable pages that your child can do.
Check out their social media sites for more information:
Facebook
,
Twitter
,
Instagram
,
Pinterest
and
YouTube
. Also, don't forget to sign up for the
Free 4 Week Trial
that Reading Eggs has offered. The special offer ends November 30, 2017. As always the crew has a wide age range of children and will have reviewed different parts of the program. Check out what the other members worked on during their time.