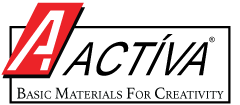 This past year the kids and I have really worked to incorporate more homeschool arts & crafts into our weekly schedule. I've found that I've really enjoyed doing the projects with them. I enjoyed art class in middle school and I've always enjoyed crafts in general. We recently had the opportunity to use the

Rigid Wrap and CelluClay Quik-Sculpting Kit

by

ACTÍVA Products

. This is not a kit that we have used before, but the rigid wrap plaster coated gauze reminded me of the material that we used to make a belly cast when I was pregnant with our second child. The kit arrived with 2-4" rolls of the Rigid Wrap, 8 oz. of the CelluClay and one project book that contained ideas for 12 different projects. One of the first things I noticed was that there was a butterfly on the box that you could cut out for a project. I thought that would be something fun that the three of us could do with the Rigid Wrap as our first project together, but yet they would all come out unique. I really liked this product because it was super easy to use and there is no limit to what you could make with it. I figured it would be easiest for me to cut out all the strips, so that we could just dip in the water and layer :) I filled a large bowl with warm water and put it in the middle of the table, so that the three of us could easily share. I did suggest to Issac that he cover the table first with an old magazine because I figured we'd all be dripping :) This product was super easy to use and I had my butterfly covered with the recommended 3-4 layers in just a few minutes. Issac had a little bit of trouble with trying to alternate his layers like was suggested, but we just talked him through it. We kept recommending to him to be extra careful at the edges to get a smooth coating, but I think he was trying to get the layers on correctly, so his edges are kind of rough. His sister told him that just made his unique :) I put a small hole in mine because I thought about hanging mine up as decoration. We were in a hurry to paint ours, so we tried the microwave recommendations and they worked great. We were painting in less than 15 minutes! We had two rolls of the Rigid Wrap and it took us about 1-1/2 of the rolls to do all three of our butterflies. We have enough for someone to do one more small item. There is a neat ebook called

ACTÍVA Products' Favorite Sculpture KIDS CRAFTS

that has quite a few suggestions if you aren't sure what type of project you'd like to do.
The other item included in our box was the CelluClay Quik-Sculpting Kit. The kids and I talked about what we wanted to make and we all came up with a different idea. I chose to make a cross, my daughter chose to make a capital A and Issac chose to make a hamburger with mac-cheetos. The CelluClay is easy to mix because you just add water. When mixing I think I added a little too much water because our CelluClay was sticky. I let it sit for a while and then it was fine to work to make our items. We baked these in the oven to dry and then painted with our acrylic paints. These items can easily be sanded for a smooth look, but we opted to leave them with a rough texture. It suited what Issac and I were doing :) Brianna worked to make hers really smooth while forming it. Issac was super excited about his hamburger with mac-cheetos and fries :) Here are a few pictures of the items we made with our set.
The
Rigid Wrap and CelluClay Quik-Sculpting Kit
would be a great item to add to your back-to-school list for an afternoon of crafting or a great birthday or Christmas gift. Pretty much any project that comes to mind can be made with one or the other of these items. I would use this kit again and the kids and I had loads of fun making our items and painting them. This is one of those items that can take as little time as you want to spend on it or as long as you want.
Check out their social media as well as read what the other crew members thought.
Facebook
Twitter
Pinterest
Instagram