I have lots of memories of painting as a child. I'm not sure how often we did that in school, but it seemed pretty often to me :) When I was growing up the teachers had to mix the powdered tempera paint with water to get our paint. I'm sure that wasn't easy for them to get the right consistency and texture. My mom was a school teacher and I remember watching her mix the paint and the tempera dust going everywhere. I know that she would have loved an easier way to give her kids no mess art supplies. Jump forward to now and
The Pencil Grip, Inc.
has come up with a great new tool for painting.
Thin Stix 6pk of Classic Colors
are solid tempera paint sticks. NO WATER needed for painting with these. All you do is uncap, paint and wait 90 SECONDS for them to dry. As you use them you just need to twist them a little to move the stick and you've got plenty of solid paint to continue your projects.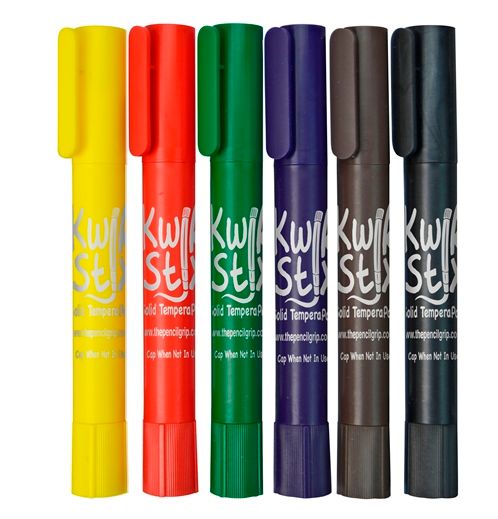 The classic color set was nice because it had your basic colors you'd use for most project. Included in the package was yellow, red, green, blue, brown and black. We did a few little projects with these and they worked really great. The colors are so vibrant! My 10 year old worked on his presentation board for his 4-H Activity Day presentation. He was talking about karate, so he used the Thin Stix to color in the belts he had on his board. He used the yellow, orange, green, brown and black! He also received a Grow-a-Frog for his birthday recently. It's about 95% transformed from the tadpole to a frog. He decided to draw a picture of Bob, the frog :)
We tried coloring some rocks, but we realized after we were done that the rocks were shiny, so the paint didn't stick (LOL) We also did a few other misc. craft projects and the sticks worked well for all of them. We used paper and poster board for most of our projects. My 15 year old tried them for a project she was working to complete. She was coloring in circles and had drops coming off the circles. She felt it was a little hard to get right close to the edge of the circle. She also said it was hard to do the drops. She said she would have loved it if there were a way to have a finer tip on these, like a marker. She really liked the colors and short drying time. One thing I noticed was that they seem to last a good bit of time. We did several projects and I felt like we hardly used any of the sticks. It doesn't seem that it takes much to cover the surface you want. I also really liked how quickly they dried. I can't tell you how many times my kids have painted over the years and I had to try and find flat surfaces in the house to put the pictures on to dry (LOL) With the
Thin Stix
you can paint whatever you want and it's dry in under 2 minutes!! The drying time is a HUGE bonus when you have younger kids or are doing art that is going to travel. The other nice thing is not needing water. We've had many times where one of the kids has bumped the table and the icky paint water has gotten knocked over. We've had many a project that got damaged due to water being spilt.
I don't know a mom around that wouldn't let their kids do more art if there were LESS mess! :)
These are great for kids of any age and there is virtually NO mess. They are also NON-TOXIC which is important to most moms that I know. It's nice to have a product that you feel safe letting your child use! I don't know a mom around that wouldn't let their kids do more art if there were LESS mess! :)
Facebook: https://www.facebook.com/thepencilgrip/ Tag:

@thepencilgrip
Twitter: https://twitter.com/thepencilgrip Tag:

@thepencilgrip
Pinterest: https://www.pinterest.com/KwikStixPaint/boards/ Tag: @KwikStixPaint/boards