Homeschool parents are always asking each other for curriculum advice! Who better than other moms to give advice about how programs work. I've always struggled with writing and therefore I don't feel I've excelled in that area with my children. When the conversation comes up about who to go to for writing help Institute for Excellence in Writing is always the number one that is talked about! I have a son graduating this year and another child that is a freshman. They are totally different people, struggle in different areas as well as excel in different areas. The oldest will do the bare minimum to get by because he doesn't see any reason to write (LOL) Those are his words and not mine! Our daughter has much more imagination, can easily come up with topics to write on, but doesn't necessarily know how to rein herself in :) I thought

High School Essay Intensive

might be great to help her learn the best way to set her writing up for success.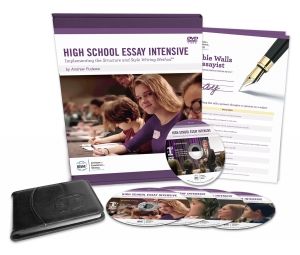 We aren't suppose to judge a book by it's cover, but quality materials ALWAYS catch my eye. The box the kit is in is super sturdy and I instantly loved the

portable wall for the essayist

that is included. Anyone that has homeschooled multiple children knows that you want a product that will hold up for years! We homeschoolers like to use our products to death and then sell them or pass them along to friends. The portable walls for the essayist is made from thick quality paper and includes tons of information. It gives a description of different types of essays, how to determine your length, what the writing process is as well as strategies for the ACT & SAT. The kit includes 5 dvds which are 6 1/2 hours total in length. The case also contained information on out to access free streaming at the Institute for Excellence in Writing website. That was a nice "extra" to have! There is so much information on the disks, so I've included a breakdown for you to see.
Part 1A: General Strategies for Essay Writing: Length and Structure
Initial Exercise

A Hurt and Rescue Operation

What is an essay?

Two Questions Writers Need to Ask

Translating Assignment Length to Paragraphs

Types of Paragraph

The TRIAC Paragraph Model

Essay Models
Part 1B: General Strategies for Essay Writing: Invention and Style
Canons of Rhetoric

Invention

Practicing Common Topics of Invention

Practice with TRIAC Outline

Style

Sentence Patterns

Literary Devices: Schemes and Tropes

Practice with Sentence Openers and Figures of Speech
Part 2: Understanding and Preparing for the New ACT® Essay
ACT General Guidelines

The Assignment

Strategies for Planning

Strategies for Writing

Strategies for Proofing
Part 3: Understanding and Preparing for the Redesigned SAT® Essay
General Guidelines

The Assignment

Annotating

Handy Annotation System

Annotating Practice

Strategies for Planning

Strategies for Writing

Using Effective Vocabulary

Strategies for Proofing
Part 4: Strategies for the Personal Essay
General Guidelines

Sample Essay Prompts

Strategies for Planning: Pop out from the Crowd

Strategies for Writing, Editing, and Proofreading

A Not-So-Secret Secret

Final Practice

Concluding Comments

Last Bits of Advice for Life



The dvd's are enclosed in a beautiful leather case with the IEW logo on the front. The case made me want to keep all the dvd's in it and not leave them scattered around like we sometimes manage to do (LOL) Everything relating to IEW just screams quality. There is even a cutout in the book for the dvd case to sit in. That
might not mean much to some, but
I loved that! Then I'm not trying to figure out how to put it all back in the box, so that the box isn't bulky (LOL) It's the little things in life sometimes that can make me happy.
I decided to sit down and listen to the videos with my daughter. I've never felt I was a great writer, so I figured I could only get better by watching the videos :) I really liked how

Andrew Pudewa is so passionate about writing. If the teacher isn't excited then the student doesn't have much of a chance. That is NOT the case here. Mr. Pudewa is very open and down to earth on the videos and I really enjoyed listening to him. He doesn't come across as knowing everything and being above the students. He seems very approachable. I think that makes it much easier to work on a tough subject. There was an initial writing exercise to start.
We started learning general strategies for essay writing. I've heard from my own children many times that they "know how to write", but I explain to them that every day writing is different from essay writing. We learned about the different types of essays and even that there are different ways to measure length! When I was growing up we were usually told in paragraphs or pages. Now with all the technology and ability to change font sizes pages might not be the best way! If a student chooses a large font it can make it easier to get the number of pages they need. I really liked all the suggestions for how to organize paragraphs. I think that was very helpful for our middle child. She could look at the list and pick out a way she might organize her paper. For example she could do it using question & answers, by comparing or chronologically. I think often we don't think or remember these type things and having it right there in front of you helps.
Our oldest didn't take the ACT or SAT because he was going to do dual enrollment at one of our community colleges and that's not required. We will probably do the same with our daughter, but I liked how there were separate sections to work on the writing that would be included in those tests. I think most people get nervous when taking any type of test. Especially the big ones like the ACT/SAT where your scores can help decide if you get into the school of your choice. Having the ability to have an idea what the scorers are looking for is very helpful. It seems as if the grading scale is somewhat of a mystery, but yet we know specific areas that they are going to grade. That gives us something to practice. Our daughter was really shocked how short a time period the graders get for each paper. I noticed that she was very much engaged in the video. I think she would have been less engaged if I was just teaching her or even if she only heard audio of Andrew Pudewa talking. I think she enjoyed seeing the students in the dvd as well as the fact that Mr. Pudewa was interacting with them.
I think the name
High School Essay Intensive
really sums up what you are getting. You are getting some intensive training in writing essays as well as preparing for the ACT and/or SAT. The tools taught here can help you to organize your thoughts, prepare a plan or outline and write within the needed time frame.
Head over and check out IEW at the following places as well as check out what my fellow crew members thought :)
Facebook
YouTube
Twitter
Pinterest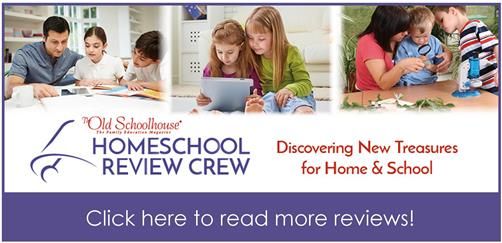 #hsreviews #highschoolwriting #SATprep #ACTprep